Typically, the Vancouver real estate market experiences a balanced or seller's market conditions. However, as you've probably heard, it's now a buyer's market. Historically, these shifts in the market last 6-12 months. The market conditions for strata properties started to change in the summer of 2018 (for detached, it was the summer of 2017). So, if you're thinking of buying, now is the time to take action.
We're starting to see signs of an increase in market activity, with some instances of multiple offers (for both condos/townhouses and detached houses). For instance, we sold our listing (detached house) in New Westminster with multiple offers, and recently a house on Main St, Vancouver received 46 offers. Interestingly, there were only 44 sales for the entire Eastside of Vancouver (for detached properties) in January 2019.
This is a sign of two things: (1) Multiple offers and buyer activity seem to be returning, (2) The buyers have not stopped looking, rather they're just sitting on the sidelines waiting for conditions to change.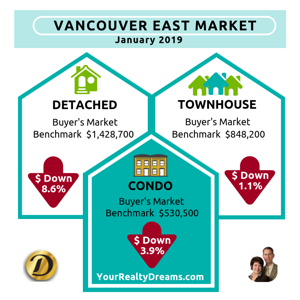 Another factor which isn't taken into account when analyzing the statistics, is the quantity of homes for sale which are really "in" the market, as opposed to "on" the market. Meaning, some homes are not really contenders for the typical buyer. For example, the homes being sold as land assemblies for development, and homes which are unrealistically overpriced and will likely be either taken off the market or significantly price reduced to be competitive. Therefore, the number of homes which are appealing to home buyers is less than the statistics indicate.
The savvy buyers are acting now before the market shifts back to balanced (and then a seller's market). It's rarely a wise decision to "wait for the bottom" of the market, because the only way to know we've reached "the bottom" is when we notice an increase in pricing and the frequency of multiple offer situations. At that point, it's too late to re-engage because once conditions start to shift back, experience tells us that a rapid increase in competition and pricing will follow.
Please let us know if you have any questions, or would like to discuss how this information affects your decision on when to buy or sell.